Wave™ TLK100 Two Way Radio
WAVE™ TWO-WAY RADIO FOR NATIONWIDE PUSH-TO-TALK
Combining the broad coverage of a nationwide cellular network* with the ease of two-way radio communications, the WAVE two-way radio gets your team connected fast.
Keep employees connected and accountable with crisp, clear audio, location tracking and Wi-Fi. Maximize efficiency with single-button operations and long battery life. And improve focus without a distracting screen to get in the way.
Forget building out or maintaining a costly radio infrastructure. Get your team up and running quickly by deploying nationwide* push-to-talk in less than 24 hours. You can even use the WAVE two-way radio with your current compatible two-way radio systems and smartphones. There's no costly or time-consuming FCC or spectrum licensing, or manual programming required.
As an affordable monthly investment, you can scale your service to match your business needs. And you can reduce or stop your service easily, at any time.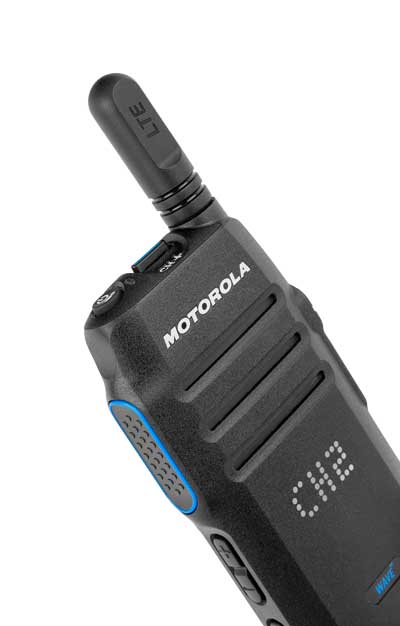 Communicate instantly and manage talkgroups and subscriptions in real time. Maximize coverage, connections, and productivity without expanding infrastructure.
Get all the benefits of WAVE with a rugged two-way radio. Purpose-built for business, everything about the WAVE two-way radio is smart and intentional. Whether it's location tracking and Wi-Fi calling, or the rugged design without an attention-diverting screen.
Add accessories that fit the way you work and extend the value of previous purchases with compatible Motorola SL300 accessories.
Get the best of both worlds by using two-way radio communication on a nationwide network*. By connecting to your current existing Land Mobile Radio (LMR) systems and smartphones, the WAVE radio extends push-to-talk benefits to all your team members, whether they're on the same job site or across the country.
*Coverage will vary. See user guide for details.